Tint For Your Furry Friends
Road Trips
Summer road trips can be exciting, but it can feel long and hot for your pets in a confined vehicle during the drive. Having an automotive tint for your pets on your car windows can help with the heat discomfort caused by long trips.
During road trips with your pet, you may find the rear area of the car does not stay as cool as the front portion due to the lack of air conditioning vents in the back seats or cargo area. By installing the IRX Nano-ceramic window tint, you can dramatically reduce the heat entering through the windows. With the installation of even the lightest IRX film, you can remove a significant amount of heat from the sun.
Never Leave A Pet Unattended In A Vehicle
Having window tinting on your car will never be sufficient to leave a pet unattended during the summer months.
A pet should never be left in your vehicle unoccupied. During the summer months, it only takes minutes for the interior of a car to overheat, causing serious injury or death to your pet. While the outside ambient temperature could be about 20 degrees, the temperature in the vehicle can exceed 40 degrees in a short period.
Regardless of the performance of any film, the interior temperature can rise to a level that can cause death to your pet. The automotive tint is most efficient on a moving vehicle as the film will absorb the heat, and the rushing air over the glass will cool down the absorbed heat. When a car is left stationary, the film will experience heat gain, reradiating back into the vehicle.
Many local jurisdictions have laws and regulations prohibiting animals from being left in vehicles. There are severe fines and possible jail time for these offenses.
Do I need a dark film to reduce the heat in my vehicle.
No, in fact the IRX 50%, the lightest film in the series.  Performs better than the standard dye window tint.
Can I leave my pet in my vehicle unattended once the tint is installed?
No, pets should never be left unattended in a vehicle, even with automotive tint and the air conditioner on.
How durable is the tint from pet paws?
While the film is built with a durable scratch resistant coating, it may scratch from aggressive pawing.
Will my pet still be able to see out the window?
Absolutely, you do not need to have the darkest film installed to achieve the high heat rejection benefits, regardless, visibility outward will not be effected during the day.
IRX Performance Specifications
| FILM | VLT | TSER | GR | COST |
| --- | --- | --- | --- | --- |
| IRX 5 | 5 | 62 | 94 | $$$ |
| IRX 15 | 20 | 59 | 77 | $$$ |
| IRX 35 | 38 | 54 | 56 | $$$ |
| IRX 5O | 53 | 49 | 40 | $$$ |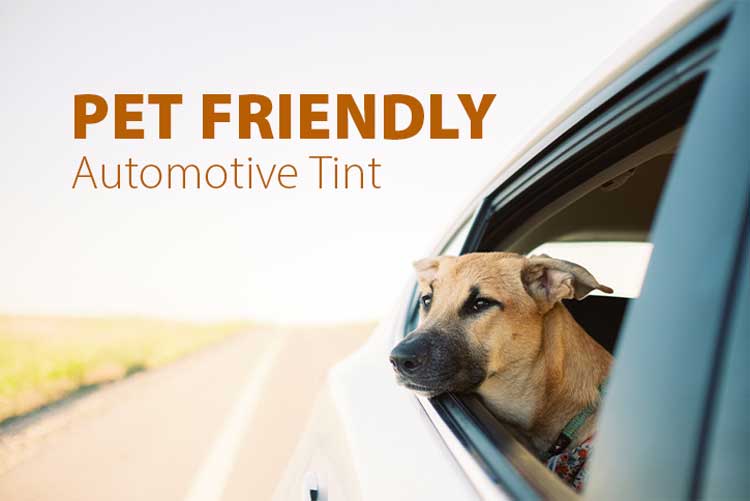 https://tintsource.ca/wp-content/uploads/2022/04/Pet-Friendly-Feature-Image.jpg
501
750
Masa Tamashiro
https://tintsource.ca/wp-content/uploads/2019/07/Black-tintsource-Icon-208x300.png
Masa Tamashiro
2022-04-30 04:41:32
2022-05-28 21:17:49
Automotive Tint For Pets